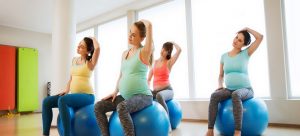 These physio led pregnancy fitness classes are suitable for women at any stage of pregnancy with any level of fitness. Classes involve an hour of prenatal Pilates type exercise with a focus on pelvic floor activation, stretching, toning, posture, breathing and relaxation – using exercise balls, mats & resistance bands. What do I need to bring to a class?
Water bottle – it's important to keep hydrated!

What do I need to wear to a class?
Comfortable clothing – leggings and a t-shirt are ideal.
Socks.




When:
-
How Much Do Pregnancy Fitness Classes Cost? 
$225 (FREE Physio Screening Assessment, Five classes at $45 each + one FREE class)
This pregnancy fitness program runs as a six week course, with one class held per week.
Payment is required in full upfront, private health fund rebates apply. For details contact your private health insurer and quote code 595 for 'antenatal exercise'.
What if I cannot attend a class due to illness, holiday etc?
Unfortunately, due to the nature of the booking system, you will still have to pay for all of the classes in the block that you have booked for. If you have your baby midway through a block of pregnancy exercise classes, contact us to put that credit towards some post natal classes.
Private Health Rebates Available
Bookings are essential, so please phone ahead on (07) 5422 9787.
Location:

Woodfloria (Open Space)
126 Archer Street, Woodford
---